Slide 1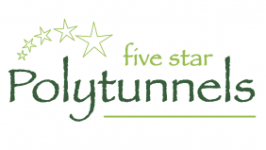 All year round with one of our polytunnel kits
Slide 1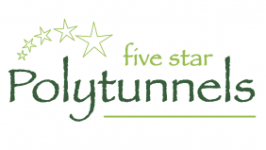 A cost-effective way to shelter your livestock and store feed. Designed specifically to ensure well-being of stock.
Slide 1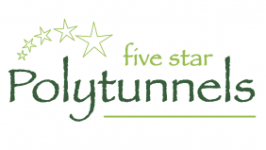 Building our polytunnel kits is easy with our comprehensive instructions & 7-day-a-week construction helpline!
Slide 1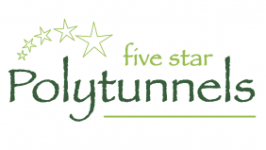 PROFESSIONAL CONSTRUCTION SERVICES AVAILABLE
Don't feel confident building your kit yourself? Contact us for details of skilled professionals who can build for you.
We are a family business, based in Wales offering top quality steel framed polytunnels delivering across the United Kingdom.
Chris or Caroline will see you through your purchase from start to finish. From your showroom visit to you door step delivery. Although based in Wales, we offer UK-wide coverage for the sales of polytunnels, covers, and other polytunnel accessories direct to your garden.
Whether you're a hobby gardener or commercial grower, you can choose from our wide range of polytunnels, from smaller 8ft wide polytunnels right up to 30ft wide structures.
Latest News
The latest news, announcements and information from Five Star Polytunnels
Grow Your Own
Fight the cost of living crisis.
With the cost of living and food bills rising, why not start on the road to self sufficiency with one of our Five Star Polytunnels. Not only will you be saving money by growing your own produce, you will be able to involve the whole family and teach children about growing healthy vegetables and organic food.
Polytunnel FAQs
A polytunnel is an elongated semi-circular shaped tunnel. It is most often constructed using steel and is covered in a polythene cover. Polytunnels come in a range of sizes and are used to keep plants, vegetables and fruits warm enough to grow in temperate regions. It can also enable you to grow fruits, vegetables, and plants out of season.
Within the polythene tunnel, the temperature and humidity are higher. Crops and plants are also covered which means they are not exposed to heat, cold, rain, wind and strong sunlight therefore, they will continue to flourish even during adverse weather conditions. There are many benefits to owning a polytunnel but one is the fact that as a semi-permanent structure, they can be moved if necessary to another location in your garden, unlike a greenhouse.
Growing herbs, fruits and vegetable crops has never been easier with a polytunnel – Learn more about polytunnels.
Cheaper than glasshouses – A polytunnel is far cheaper per square metre than glass houses as well as being safer. For the same price as a small greenhouse, you can have a much larger polytunnel and more growing space!
Excellent Value – You will get your money back after two to three seasons as crops are so prolific and the seasons are extended. Soft fruit such as strawberries, raspberries and blackberries can be grown for most of the year, as can many other crops.
Weather Protection – Have fun as a grower in a pleasant working environment trying varieties of crops that would normally not succeed or flourish outside
Animal Protection – Polytunnels can be closed on both ends, keeping out animals such as deer, rabbits, dogs, cats and birds. You can also protect animals inside your polytunnel over winter
Control Disease – The controlled atmosphere means that your plants can be better protected from diseases such as botrytis and mildew. Soil-born pests may be identified and dealt with.
Food production – Better crop yield, ease of supply, and year-round food production means more food, whether you're selling, eating, or both
Better for the Environment – Reduce your food waste, reduce your mileage, and know exactly where your food has come from, your own polytunnel
Nutritional Benefits – You are able to pick crops straight from your polytunnel, then prepare and enjoy a delicious meal using vegetables and fruits you raised
With our complete polytunnel kits and included instructions we think construction of your polytunnel is easy to do. At the time of purchase we provide step-by-step self-assembly instructions. We also have a 7-day-a-week self-construction helpline should you get stuck and need additional guidance. We are also happy to answer any questions by email.
The majority of smaller polytunnel kits can be assembled in a day. The larger kits (e.g. over 16ft) can take longer to assemble.
We would recommend at least two people to construct.
Five Star Polytunnels uses Z35 tensile steel to manufacture it's polytunnels offering a high-quality, long-lasting robust end product.
With more than 25 years of combined experience in constructing and working in polytunnels, in one of the windiest areas of the UK, we are able to offer a personal, bespoke service. Chris or Caroline will see you through your purchase from start to finish.
As well as service and advice up to delivery, you can also call our 7-day-a-week self-construction helpline should you need additional construction advice!
Our ground tubes are made from double thick-walled heavy gauge steel, offering a longer life, rather than the inadequate option of using the same gauge steel for both hoops and ground tubes often found in inferior products. Our design allows the hoops to be 'jacked' after covering, providing a skin-tight finish that is essential to the longevity of your structure. Our smaller tunnels have 2 piece hoops, offering a stronger structure, without the need of any unnecessary additional bracing.
Best of all if you reside in Wales, delivery is FREE! UK-wide delivery is also available for a delivery cost.
The ground has got to be prepared as you would your garden, then nearly every crop you could think of will grow in a polytunnel. Using a polytunnel provides more warmth and extended seasons so from potatoes to peaches, from marrows to melons, from strawberries to squash, tomatoes to tarragon, you can experiment with almost any crop!
From exotic plants and crops to raising seedlings, the polytunnel creates the ideal microclimate for all kinds of plants and crops.
Because it protects plants from the weather, it presents a more manageable and stable environment. This means that the growing season is extended so you will still be picking fruits and vegetables late into the autumn. But it also means you can start to plant earlier in the year too.
And to prove it, there are many accolades being collected by commercial growers and domestic gardeners. Farmer and food producers are winning industry awards for growing vegetables and fruits that would normally struggle in our notoriously changeable weather patterns. For example, growing varieties of chillies in polytunnels here in the UK, widening choice for the consumer.
And Chelsea Flower gold medal winners use polytunnels to grow key plants for their upcoming garden designs over many growing seasons, again because the polytunnel is the ideal growing environment.